The price of one gram of saffron in the Netherlands + buying saffron in The Hague
We present to you a part of the conversation of the saffron sales unit about Buying saffron in The Hague.
The price of each gram of saffron and other necessary information.
King Business brand in stores in the Netherlands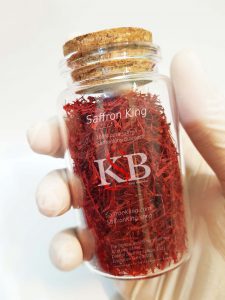 Last Wednesday, the person responsible for buying a reputable store contacted the sales department of our company.
First, Mr. Jafarian talked about the superiority of the King brand in stores in the Netherlands.
Of course, we are proud that our company's products are well known.
Sale of saffron king in hypermarket
Mr. Jafarian owns several stores in The Hague.
They want to sell Saffron King in stores and hypermarkets in The Hague.
Wholesale price of saffron
1 gram packages have many buyers in the market.
One gram of saffron is sold at the price of 8 to 12 euros.
What type of saffron is suitable for sale in hypermarkets?
The sales manager of King company, Mrs. Engineer Shahvardi, told the esteemed customer: The best type of saffron for sale in supermarkets and hypermarkets is Super Nagin saffron.
Saffron for sale in the supermarket
Which type of saffron is suitable for sale in the supermarket?
In the market and especially in supermarkets, the type of product packaging is also important.
In general: packaging costs as well as product quality are effective on the price of saffron.
Negin saffron and Super Negin saffron are the best types of saffron to supply to customers.
Wholesale sale of 1 gram of saffron
King company is a wholesaler of saffron.
For this reason, the minimum order quantity is 500 packages.
This means that in such orders, the weight of the packaging is not the criterion, but the number of packaging is important.
In this case, the price of saffron is very different compared to retail.
The price of saffron per gram in the Netherlands
In this conversation, the price of each gram of saffron was announced to Mr. Jafarian.
You can also contact our colleagues on [WhatsApp] to know the latest prices.
Buying saffron in The Hague
If you want to experience buying saffron without intermediaries, contact our business consultants and sales managers.
The best way to buy Iranian red gold is to get a sample first.
Check the quality and service of the company and then buy saffron.
You can also visit [online store] of King Company to buy saffron.
Delivery of saffron in the Netherlands
We will offer you saffron at the final destination in the following cities as soon as possible.
Amsterdam
Rotterdam
The Hague
Utrecht
Eindhoven
Tilburg
Almira
Kroningen
take away
Buy pure saffron
Managers of chain stores, hypermarkets, supermarkets and loved ones who intend to buy saffron in The Hague.
You can get in touch with the sales advisors of the world's diamond and saffron companies.
Buying saffron in The Hague