Saffron Iranian: Quality, Price, and Export of the Red Gold
saffron Iranian: At present, buying and selling Iranian saffron in international markets has been booming.
In this article, we will check the price of each kilo of saffron in the market.
Famous Iranian saffron planting centers
We can mention these centers as the most famous saffron planting spots in Iran.
Birjand
the universe
Ferdows
mankind
The most important reason is that these cities have a suitable climate and fertile soil for planting this crop.
Khorasan saffron quality
Saffron produced in this region has a high color, aroma and taste and is sold in bulk or packaged.
The price of saffron
Considering that the price of all products increases every day in Iran, we can actually say that there is no price stability. The price of this product in Iran also varies.
Also, its buying and selling price depends on its type, quality and date.
The price of one gram of saffron in Iran is between 65 and 88 thousand tomans.
It is forbidden to buy expensive saffron!
Before buying saffron, we suggest that you do the necessary research and choose a reliable company to buy saffron.
In this regard, we can say that King Business is one of the largest sellers of saffron in the world.
You can buy the best quality products at the best prices worldwide from this company.
Buy saffron from an online store
Saffron King online store in Europe is one of the most reliable Iranian saffron sales centers.
In this web shop, all kinds of saffron are sold in different packages.
It is noteworthy that Afghan saffron is also sold in this store.
Original Iranian saffron
The saffron cultivated in Iran is one of the best.
Khorasan and its surrounding areas in Afghanistan, due to its hot and dry climate, is a favorable area for the cultivation of quality saffron.
Selling all kinds of Iranian saffron in the market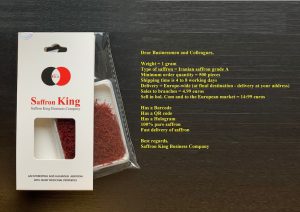 All kinds of red gold are sold in the world.
Sargol saffron
precious saffron
Pushal saffron
Super precious saffron
Export of saffron
Iranian people know red gold as an economic product.
Besides, it is in high demand in domestic and foreign markets.
The amount of Iranian saffron exports
According to the statistics of the Iranian Chamber of Commerce, three products of barberry, saffron and jujube are sent to various export destinations.
Spain
Hong Kong
Vietnam
Italy
Afghanistan
Diameter
India
Germany and France are customers of Iran's red gold.
China and Russia are also considered as potential markets for the export of this product.
saffron Iranian
To sell Iranian saffron in domestic and foreign markets, it is necessary that farmers, producers and sellers are familiar with the standards of the destination country.
The ISO 3632 standard is the main and most reliable international standard for evaluating the quality of this product.