Buy wholesale saffron + how to import bulk Iranian saffron
How to buy wholesale saffron in Europe
Sale of bulk and packaged saffron and shipping to European countries by Saffron King Business Company.
Saffron import and sale in Europe
In this section, we will first discuss the sales made in Europe by Ms. Khadimzadeh from Saffron King Business.
In the following, we point out how to buy bulk saffron and the reason for the decrease in saffron production.
Selling saffron in Europe
Mrs. Khadimzadeh is one of the experienced colleagues of Saffron King Business in the sales department.
He has recently held negotiations with different countries regarding the production and sale of saffron.
According to the reports filed in the sales department, they have performed very well in one of the negotiations with the German customer.
His talks were done with a saffron customer from Germany to buy bulk saffron.
These conversations have been successful and the customer's order is being processed.
They have plans to sell saffron in the whole of Europe for July.
The saffron intended for the European market will be packed in weights of one gram, five grams, ten grams and one kilo.
Buying saffron in Lyon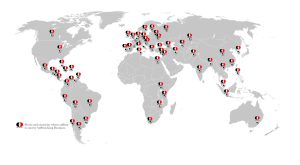 Another work done by Mrs. Khadimzadeh is providing packaged saffron to chain stores in Lyon.
Based on the efforts of him and our colleagues in the sales department, the volume of saffron sales this month to European countries has grown significantly.
This capable colleague has been able to attract many customers through discussion and consultation and maintain his growing trend.
His customers are usually looking to buy wholesale saffron and come to him from countries such as Belgium, Italy, Germany, Oman, Qatar, France and the Netherlands.
Buy wholesale saffron
If you are looking to buy wholesale saffron, you can contact our colleagues from the sales department and get free advice on the daily price of saffron. (Whatsapp)
The reasons for the decline in saffron production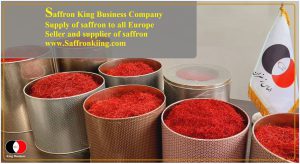 Mrs. Khadimzadeh presented an audio file about the decrease in saffron production and, as a result, the increase in its price in the market, which we will refer to below.
Part of the content in this audio file is about predicting the price of saffron, and another part is about the reasons for the decrease in saffron production.
Unfortunately, the news and the studies conducted indicate a few percent decrease in saffron production.
Dehydration, which is quite obvious and obvious, is one of the main reasons.
Dehydration and increase in the purchase price of saffron
It is true that the saffron plant is known for its low water requirement, but it is not possible to grow it in a dry state.
In saffron irrigation, two things are very important:
Saffron irrigation time
Irrigation frequency
The growth period of saffron is in autumn and winter, so it does not need much water.
Irrigation of saffron is often provided through snow and rain.
A very important point: you should not use salty water that contains many salts to irrigate saffron.