How to buy Iranian saffron + characteristics of pure saffron
Iranian saffron is the most expensive spice in the world and its sales have been booming in European countries for hundreds of years. How to buy Iranian saffron?
Saffron import to Europe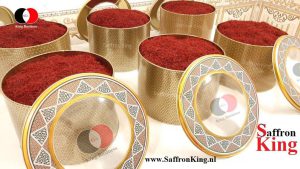 In recent times, the sale of saffron in Europe has grown significantly.
Most of this increase in sales is due to the start of spring and summer season.
People go to restaurants more in spring and summer, and because of the high consumption of saffron in restaurants, the sale of saffron has increased.
In European countries such as Italy, France, the Netherlands, Germany, Belgium, England and Spain, saffron is used both as a spice in food and as a drink.
Why should we buy saffron from King Business?
Certainly, a company that has been working globally for more than 12 years, cares a lot about quality and markets quality products, it's a win-win deal.
King business company has been doing all the stages of planting and cultivating saffron, harvesting, packing, exporting and supplying saffron to international markets for many years.
How to buy Iranian saffron?
If standards are important to you and you are looking to buy saffron from a reputable company, our suggestion is to first consult with a company with a history and then buy.
King Business Company has been operating internationally in Iranian saffron business for more than 12 years.
We know what is the best quality, best selling and best saffron available in your city and country.
We can tell you how to identify fake saffron.
If you are looking to buy saffron, we can recommend a good store near you so that you can make your purchase safely.
You can ask your questions to our colleagues. (Contact)
What are the characteristics of pure saffron?
The saffrons in the market are very different in terms of quality.
In addition to the high price, pure and high-quality saffron has a very good taste, color and smell.
There are very important things that affect the quality of saffron.
Pure saffron is difficult to prepare, and many things must be taken into account when preparing it, such as:
 How to plant, grow, and harvest saffron
 How to dry saffron
 Saffron packaging (our products have no contact with plastic)
 Transportation
 Maintenance
Sale of pure saffron in Europe
King Business has established various branches throughout Europe. Our goal is to make it easier for customers to buy saffron.
Some of the cities where we have sales branches:
Rotterdam, Amsterdam, Munich, Stuttgart, Dusseldorf, Frankfurt, Paris, Marseille, Rome, Brussels and…
If you need more information about how to buy Iranian saffron, contact our colleagues.
If you want to buy pure Iranian saffron, visit our website.