The price of saffron in Belgium + distribution of saffron in Europe
The subject of this text is the price of saffron in Belgium. In this text, we describe the conditions for exporting saffron to Europe and examine how to send saffron to Brussels.
Sale of Negin A and A+ saffron
According to the reports of the export department in recent days, Nagin grade A and Nagin A+ saffron have had relatively good sales.
According to the reports received from Ms. Shahvardi's saffron export department, an Iranian businessman has requested to send saffron to Belgium.
His initial order was 15 kilos of saffron for Brussels.
Sending saffron to Belgium
The businessman we are looking for has talked with our colleagues two months ago during a face-to-face meeting and discussion at the Tehran office.
In this meeting, many agreements were made.
Currently, his focus as a businessman is on the discussion of prices.
He asked our colleagues one of the most important and frequently asked questions:
How much is King's saffron inventory?
(Probably, with this question, they wanted to understand the capacity of exporting saffron in King Business Company.)
In response to this question, Mrs. Shahvardi announced:
The stock of saffron in our company for this week is 19 kilos of grade A precious saffron and 29 kilos of grade A+ precious saffron.
Iranian saffron in Belgium
This businessman wanted products for Belgium and his custom product was only Iranian saffron.
King's group of companies are engaged in the production and distribution of Iranian saffron and Afghan saffron all over the world.
The target customer of this businessman in Brussels is an Iranian person and that is why he was looking for Iranian saffron.
The price of saffron in Belgium
Photos and videos of the products in the preparation process have been sent to them.
Also, the price of saffron in Belgium was presented to them.
Accordingly, for the delivery of each kilo of precious saffron type A in Brussels: 1985 euros have been discussed.
Each kilo of Nagin saffron type A+ is 2390 euros.
Saffron packing in Belgium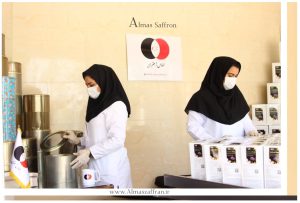 It seems that this Iranian businessman has his own customers in Brussels.
They sell saffron in packages of 0.5 grams, 1 gram, 2 grams, 5 grams and 10 grams.
Of course, part of the saffron purchased by them is sent to Spain in bulk.
Distribution of saffron in Europe
Considering that King Business has an active representative in Brussels and customers can pick up their saffron in Brussels.
The final decision to deliver saffron in Belgium or Iran is with the applicant.
The merchant we are looking for has a trading company and they may deliver the saffrons in Iran.
Of course, the possibility that their request is to deliver the saffron in Brussels is not small.
The high costs of exporting saffron to Europe and the long time it takes to send saffron to European countries are the most important reasons for this.
In the current conditions of saffron export and distribution in Europe, it takes more than 45 days.
The easiest way to export saffron to Europe
King's customers across Europe can receive their orders at their final destination within seven to ten days.
King's branches are active in different countries such as Belgium, Holland, Germany, France, Italy, Austria, Spain, England, etc.
If you also intend to buy saffron or export saffron to Europe, contact our colleagues in the sales department. (Whatsapp)