Selling packaged saffron in Paris + saffron distribution in Europe
Topic: Selling packaged saffron in Paris
Then we will check how saffron is distributed in France.
Selling packaged saffron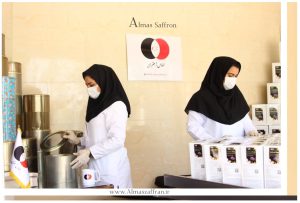 Ms. Staki is one of the best and respected representatives of Saffron King Business Company.
He has been working with King for many years.
According to Ms. Staki's reports, the most popular type of saffron demand and sale in Paris is the sale of packaged saffron.
The most activity of this branch is Selling packaged saffron.
According to registered reports, the sale of bulk saffron in this branch accounts for about ten percent of the total sales.
All kinds of packaged saffron
According to the reports registered in the Paris branch, the sales of saffron in packs under 10 grams and luxury packaging have the highest sales rate.
In the recent days, Mrs. Engineer Staki has registered two important orders.
His first order was 1g packaged saffron and the second order was saffron in one or two gram packages.
Last week, the packing work was done at Saffron King Business by the packing team.
The desired orders for the Paris branch arrived yesterday.
How to pack saffron
Saffron packaging in Saffron King Business has several stages.
First, the bulk saffrons (after the necessary checks) are transferred from the purchase department to the packaging department.
Then, the work of sorting and categorizing the types of saffron is done.
After these steps, the desired products are placed in their own packaging.
Finally, the packaged product is delivered to the branches by the colleagues of the support unit.
Distribution of saffron in Paris
Ms. Staki has reported that part of the work of transferring and delivering saffron to customers has been completed.
His good communication as a representative of Saffron King Business in France is very valuable.
These good connections have attracted the attention of prestigious stores in Paris.
Also, because of this feature, many customers use the services and products of King Business.
Selling packaged saffron in Paris
Ms. Staki is an active and capable representative in the Paris branch.
He has written several books on agriculture.
Also, his books on greenhouse saffron planting have been published in partnership with Saffron King Business.
Bulk saffron distribution and packaging
King Business is an international company headquartered in the Netherlands.
This company is engaged in the production, export and distribution of bulk and packaged saffron in France and around the world.
King company has 12 years of business experience in this field and its main focus is the distribution of saffron in Europe.
Do you also intend to buy King Business products?
Connect with our colleagues on WhatsApp.
If you intend to trade saffron internationally, contact the sales department for cooperation.
Communication on WhatsApp