Wholesale saffron store
These days, buying and selling red gold is done through online stores.
The wholesale saffron store of King Business Company is one of the largest Iranian saffron sales centers in Europe.
What is the price of one gram of saffron in the market?
How to buy saffron in five-gram packages from King Business Company?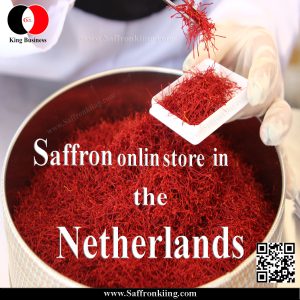 Wholesale of saffron
The saffron seller usually sells this product in 1-gram packages.
Wholesale of saffron by King Business is available in all European countries.
To buy saffron in packages of one gram and even lower weights, you can visit King's wholesale saffron store.
If you want to start your own business in the field of buying and selling this product, how does it work?
Buying and selling saffron
One of the best ways to buy and sell saffron in Europe is to get the license of the branch of King Business.
With this method, you can open an online saffron shop for yourself by this company and benefit from all the services of this company.
The price of 1 gram of saffron
There are various packages in the saffron shop.
This product is marketed in weights of 0.25, 0.50, and 1 gram.
The price of 1 gram of saffron in the King Business shop starts from 5 € to 8 euros.
What do you think is the reason for this price difference?
Sale of pure saffron
The quality of saffron and also this type of packaging is effective in the selling price of pure saffron.
King Business Company is the largest seller of Iranian, Afghan, and Spanish saffron.
Bulk saffron is sold by this company.
How much is the price of 1 kg of bulk saffron?
Wholesale saffron store
When buying saffron, we should pay attention to some important points.
Product grade
Date, the year the saffron was harvested from the field
Its type of packaging
Product quality assurance
There are some things that we should pay attention to when buying saffron
The company has established saffron sales branches in different European countries.
Quality products are available in different cities.
You can buy pure saffron from the saffron store in your city.
What is the price of saffron?
Currently, buying and selling saffron in our companies is done in two ways.
In a wholesale and retail sale of saffron, the price of each of these methods is different.
The price of saffron wholesale is lower than retail.
On average, we can say that in Europe, the price of one kilogram of saffron is between 2450 € and 3000 euros.
The purchase price of saffron
It was mentioned in the above section; If you are a bulk buyer of saffron, it will be in your favor in terms of price.
In other words, if you want to buy and sell saffron, it is better to buy this product in bulk from King Business Company to get more profit at the time of sale.
the wholesale price of saffron is 2300 € to 2600 euros per kilo.
The price of the same product will increase by more than 100% when sold in one-gram packages..
The selling price of saffron
In the saffron online shop, you can see different prices.
What is the selling price of saffron in the market today?
1 gram of saffron in the major saffron shop in the European market is bought and sold for between 6 € and 9 euros.
Of course, part of these prices are costs that must be paid for packaging.
Because the type of packaging for this product must be special for red gold.
Saffron sales branch
Do you also want to work in the field of buying and selling saffron?
If you want to start a saffron business, you can have one of King Business' saffron sales branches in your city.
You can contact the business advisors of our company to get a branch license for selling products
The best way to buy saffron
To be sure of the quality of the products, we suggest you buy your products from a reputable company.
King Business Company is one of the most reliable saffron sellers in Europe.
This company guarantees the quality of all its products 100%.
What is the best way to buy saffron?
– Visiting one of King Business Company's saffron stores
– Direct communication with the experts of the sales department of this company
– Send email and receive information about today's saffron price