Wholesale saffron in Spain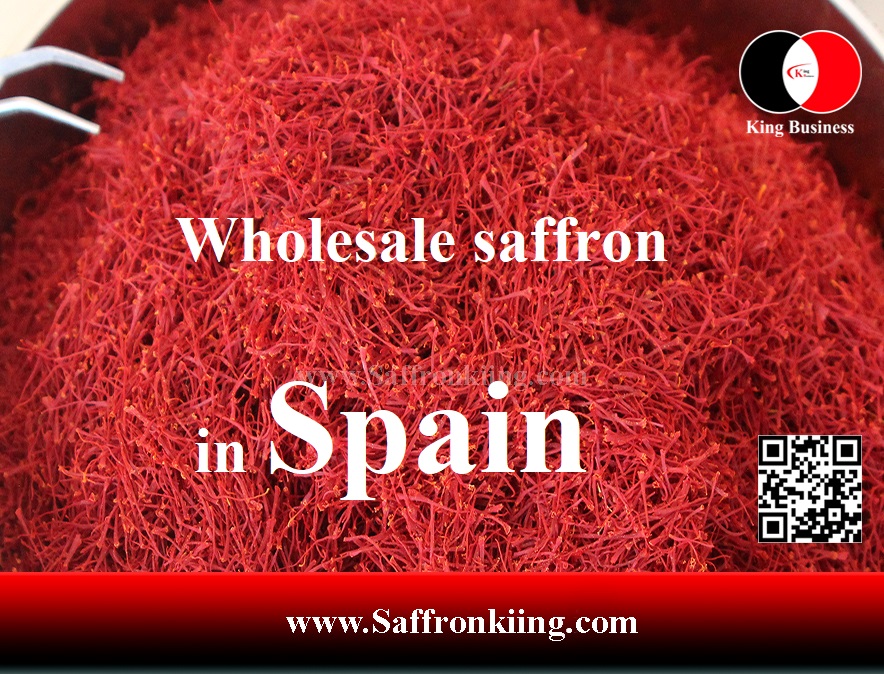 Wholesale saffron in Spain is operated by Saffron King.
This company is engaged in importing loose saffron to Madrid.
Next we check the price of each kilo of saffron in Europe.
When you buy saffron by the kilo in Barcelona from the Saffron King brand, you can have your order delivered to your address.
Import of loose saffron to Madrid
The saffron trade with Spain is one of the oldest trade links between Iran and this country.
All trade and economic relations with this country have many benefits. As:
1. Spain is the second largest country in Western Europe and the fifth largest country in Europe.
2. This country is the thirteenth strongest economy in the world.
3. Also, this country is the fourth best performing economy in the Eurozone.
In the early 1990s, many Spanish companies became multinationals.
Most of the activities of these companies took place in Latin American countries.
After the United States, Spain is now the largest foreign investor in Latin America.
Some other Spanish companies expanded their field of activity to Asia and the countries of India and China.
This global expansion gives Spain a competitive edge over other European neighbors.
The reason for this may be primarily the desire for the Spanish language and culture in Asia and Africa, as well as the existence of a collaborative culture that has taught Spaniards to take risks in volatile markets.
All these factors show the importance of saffron exports to Spain.
Various companies are active in this country, but Saffron King is still the leader in the Wholesale saffron in Spain market.
Below we will further examine the activities of this society.
Wholesale saffron in Spain
Despite the saffron production in Spain, this country still relies on importing saffron from Iran.
About 8 tons of saffron are harvested annually in different cities of this country.
In terms of quality, these products are usually lower than Iranian saffron.
That is why Spain is the largest importer of saffron from Iran.
About 400 tons of saffron are produced in Iran every year, most of which are exported to different countries.
Currently, about 53% of the volume of saffron imports per kilo into this country is carried out by Saffron King.
This company is only engaged in the wholesale sale of saffron in bulk.
If you wish to buy saffron directly from the saffron importer to Spain, contact Saffron King.
The price of saffron per kilo in Europe
Saffron prices in Europe are set by different groups. As:
The rate announced by trading companies and importers of saffron to Spain
The price advertised by saffron traders in this country.
The market price of saffron is determined by saffron sellers.
The price advertised in online stores.
Saffron King Business is in the first group.
You can get the highest quality saffron from this collection right at your doorstep across the European Union.
The price for a kilo of saffron in Spain is between 1,600 and 2,200 euros.
Buy saffron from Barcelona by the kilo
Barcelona is the largest city in Spain after Madrid.
In addition, this city is the most important port in Spain.
This city is the largest European metropolis on the Mediterranean, so many commercial transactions are conducted there.
Of course, the sale of saffron in this city is also important from another point of view.
The city is linked to France and Portugal by a rapid transit system.
That is why these connections are very important in business.
Buying and selling saffron in Barcelona is done in different quantities, the smallest of which is one kilogram.
Due to the fact that Barcelona is a tourist city, many travelers planning to travel to this city take saffron with them and reimburse part of their travel expenses.