Saffron Trade Licenses to Europe: Our Company's Complete Guide for Exporters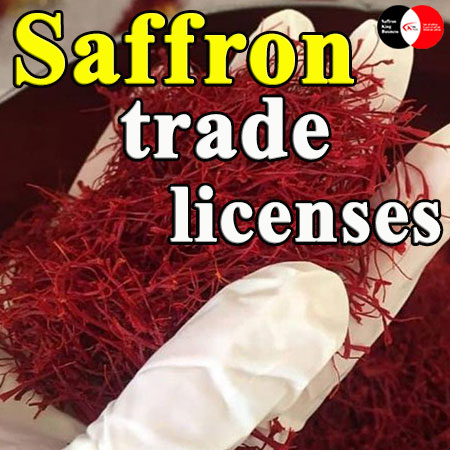 Do you want to export saffron to Europe? In this article, our company will show you how, using saffron trade licenses, you can supply saffron with high quality and reasonable price to the European market. We provide you with professional and complete services in the field of sales network, delivery speed, supply capacity, technical and legal information and special discounts.
Successful experience of our company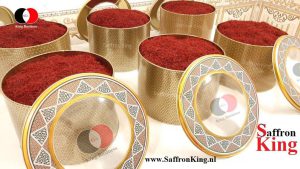 In [the previous section], we told you about one of our successful experiences in supplying and delivering 50 kilos of saffron to a customer in Europe. Now, we want to tell you how you can use our company's services to supply saffron to the European market at a reasonable price and with high quality.
Our company's extensive sales network in Europe
King Business has offices and branches in Europe that store and distribute saffron in bulk or packaged form. This means you don't need to send all your saffron from Iran and wait for its delivery.
You can order saffron according to the needs and demands of the European market from our offices in different countries and receive it in the shortest possible time.
High speed delivery of saffron in Europe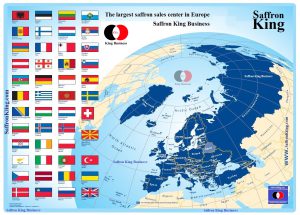 Our company is able to deliver saffron to its customers at a high speed due to the extent of its sales network. Depending on the geographical distance and the method of transportation, the delivery time of saffron is different. for example:
In the cities of Amsterdam, Rotterdam, Paris and Rome, about 1 to 2 working days.
In EU countries, about 2 to 4 working days.
In other European countries, about 5 to 12 working days.
Supply capacity of saffron in Europe
Our company can supply 50 kilos of saffron to our customers in Europe this month. We provide our customers with complete and accurate information about the quality, price, delivery time and payment terms of saffron. Especially to companies that are active in the field of saffron and need more technical and legal information.
Complete and accurate information about the quality and price of saffron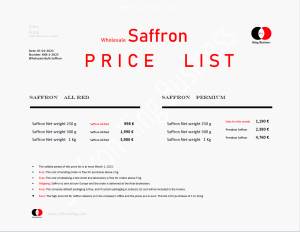 For this group of customers, we deliver analysis from reliable laboratories along with saffron. These analyzes include important items such as purity percentage, humidity, bacteria, fungus, poison, etc. This information helps customers to adapt saffron to European standards and choose the right packaging for it.
Saffron trade licenses
We also provide this group of customers with saffron trade licenses in Europe. These licenses include standard certificates, health certificates, transportation certificates, money laundering certificates, etc. These licenses help clients to align their business with European laws and regulations and avoid any problems or fines.
Professional and complete services of our company in exporting saffron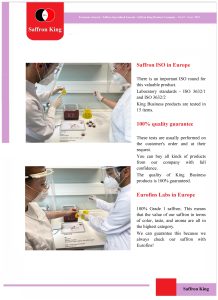 With 12 years of experience and knowledge in the field of saffron export, our company is able to provide you with professional and complete services. By cooperating with our company, you will be sure that you will supply your saffron to the European market with the best conditions and with the highest profit.
Benefits and advantages of cooperation with our company in saffron business
I am glad that you visited our site and are interested in our services. If you want to cooperate with our company and benefit from our special discounts, please fill out the [order form] carefully. The form contains questions about name, phone number and email address. After filling out the form, one of our experts will contact you and discuss more details with you. Do not miss the opportunity and fill the form now. We are waiting to hear your warm voice.