Sale of Iranian saffron in Italy + weight standard of saffron in trade
Regarding the sale of Iranian saffron in Italy, there are few people who do not know the King company.
Saffron King Business Company is a producer of saffron.
King Business Company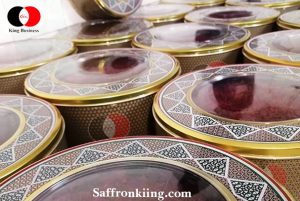 According to the routine of the past days, we have provided you with a part of the reports related to Saffron King Business Company.
In these reports, we mention the techniques and important points of saffron business and tell you about King's services.
Sale of Iranian saffron in Italy
Sarkar, Mrs. Payindeh Engineer is one of the senior managers of King Business Company.
In the past few times, he has presented very good submissions in the field of selling Iranian saffron in Italy.
The team working with Ms. Payandeh Engineer at King Company is a very good team. They are working in different departments and their responsibilities include several departments.
One of the departments is the coordination of work and in a way the management of a number of saffron sales branches is the responsibility of Mrs. Payandeh.
In addition to forming a new team in the sales unit, they have done very important work in the field of customer classification and customer follow-up.
The saffron sales department is very active due to continuous activities and coordination with all offices and branches.
Special sale of saffron in July and June
The sales department has announced the special sales and stated that the special sales have started for the summer.
Special sales are very important, because when a special sale is announced by the sales team, the saffron will sell out quickly.
The special sale of saffron in King Company has always been very attractive and welcomed by customers who are active in the saffron business.
The attractiveness of this issue is due to the offered prices, which are very affordable.
If you also want to know about the special sales of King Business Company or you intend to buy saffron, contact our colleagues.
We will notify you based on your preferred method (message, email, call, etc.).
Communication with colleagues of the sales unit (WhatsApp)
Weight standard of saffron in trade
The important point about the unit of weight in the sale of Iranian saffron in Italy is that some traders sell saffron by the weight standard of pounds.
There are different units for measuring weight in the world.
Some of these items have the same name but have different weights.
For example, the methqal in Iran is different from the methqal in Arab countries and their weight is not equal.
Accordingly, usually the weight standard of saffron in international trade is grams and kilograms, which is a global standard.
King company has set its weight standard in saffron business, grams and kilograms.