Distribution of quality saffron in Europe by King Business Company
Distribution of quality saffron at a reasonable price by King Business in Europe. Saffron with guarantee and high standard.
Export of saffron by King Business Company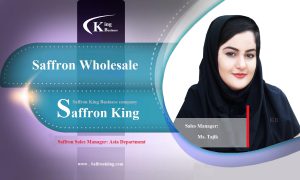 King Business Company is one of the leaders in the field of production, export and distribution of quality saffron in Iran and the world. With a history of more than 13 years in this field, this company has been able to supply high quality and standard saffron to domestic and foreign markets by using technical knowledge, practical experience and advanced technology.
Products of King Business Company
King Business Company offers various products in the field of saffron. Among these products, we can mention pure saffron, powdered saffron, Negin saffron, Pushal saffron, saffron extract, etc.
Also, according to the opinions and needs of its customers, King Business Company has considered different and suitable packages for each type of saffron. Among these packages, we can mention 1 gram, 5 gram, 10 gram, 50 gram, 250 gram, 500 gram, etc.
King company's target markets for distribution of quality saffron
With high quality standards and reliable guarantee of its products, King Business has been able to find its target markets worldwide. This company currently exports saffron to more than 30 countries in different continents and distributes quality saffron. Among these countries, we can mention Germany, France, Italy, Switzerland, Austria, Holland, etc.
Considering the increasing demand of global markets, King Business Company has tried to provide better and faster services to its customers by opening new agencies in different countries.
Agents selling saffron
In order to develop its activities and provide closer services to its customers, King Business has opened several new agencies inside and outside of Iran. These agencies include:
Amsterdam representative
The representative office of King Business in Amsterdam, the Netherlands, is one of the newest and most dynamic representative offices of this company abroad. Having a convenient and accessible geographical location, this agency is able to supply the saffrons of King Business Company online and in person to customers in this country and its neighbors. Having a two-year contract with the mother company, this agency is allowed to sell its products independently and with a full guarantee and distribute quality saffron.
Opening new agencies in Switzerland
Switzerland is one of the most popular and profitable markets of King Business. Having two active representatives in this country, this company has been able to sell its saffrons with great customer acceptance.
Considering the high potential of the Swiss market, King Business plans to open several new agencies in this country in the near future. By working closely with the previous representatives and using their experience and knowledge, these agencies will be able to supply King Business saffron to customers in a wider and higher quality.
If you are looking for saffron in European countries, contact our colleagues on WhatsApp. [Whatsapp]