Selling saffron in London and the price of Iranian saffron
Selling saffron in London: In this report, we talk about the sale of saffron in London and the price of Iranian saffron in England.
Selling saffron in England
On Tuesday last week, one of the food selling companies contacted King Business.
Dear Mr. Akbari, the manager of the food distribution company, has not sold saffron until now.
But the important thing is that they have extensive clients and connections in European and American countries.
Iranian saffron trade
Last week, one of the companies in England offered cooperation in selling Iranian saffron to King Business.
This person owns a large grocery store in London.
This proposal was accepted and welcomed by the company manager.
The strongest supplier of saffron in Europe
Mr. Akbari met through our company's website.
By studying the site's content, they found out about the history and experience of King Business, the way it operates, the type of activities and the scope of this company's work.
The most reliable seller of saffron
Mr. Akbari said:
After the investigations they conducted, they found King Business as the most reliable and popular company in the field of selling and distributing Iranian saffron.
For this reason, they contacted our company with complete confidence and safety.
If you are also looking to buy saffron, contact our colleagues on [WhatsApp].
The negotiation of the sales team of King Business Company
Our sales team negotiated with Mr. Akbari.
They discussed the sale of saffron in London and the best price of Iranian saffron.
Wholesale manager of saffron
In this project, Ms. Shah Verdi is the sales manager.
After the conversation, the sales team sent the pictures of the products along with their prices to Mr. Akbari.
The images included luxury packaging and saffron extract.
In an audio file, Mr. Akbari thanked for sending complete information.
Saffron distribution in Manchester, England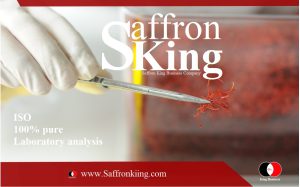 Two days later Mr. Akbari contacted the project manager again and registered his order.
2500 envelopes of red grade (A+) gold in luxury envelopes
Order 350 boxes of saffron extract (liquid saffron)
Selling saffron in London and wholesale saffron
Dear customers, you can refer to the website of King Business Company and get the purchase price of Iranian saffron.
Currently, the selling price of 1 gram of saffron in London is between 8 and 11 euros.
1 kilo of Iranian saffron in wholesale is between 3.5 and 4.5 thousand euros.
Wholesale of saffron in England
As mentioned above, Mr. Akbari's purchase order was placed in a luxury box.
Therefore, the price of these products was calculated in bulk.
The price of selling saffron at the best price
In the online store, 1 gram of saffron costs 7.99 to 11.99 euros.
The delivery time of this order is up to 7 working days in Europe.
Selling saffron in London