Import of saffron to Europe and saffron suppliers
European countries are important buyers of Iranian saffron
King Business Saffron Company is one of the largest exporters of saffron to the European Union
In 2022, the company will increase import of saffron to Europe by 10%.
Saffron suppliers in international markets
The Iranian red gold trade has received more attention last year and this year than before
The main reason for this is that Afghan saffron, which was a competitor to Iran's product, has not been able to enter international markets for the past few months.
This is a good opportunity for Iranian saffron traders and sellers in international markets to offer their products at reasonable prices.
Saffron King Business is one of the largest suppliers of saffron in international markets
The best way to trade saffron
Red gold is a best-selling product in the market.
Naturally, its trade is good for the activists in this field
If we can enter the market of buying and selling saffron in a principled and calculated way, we will definitely receive a significant profit.
The best way to trade saffron is to have sufficient knowledge of several important factors
The first factor is to know the taste of the buyer of the product and in general to know the buyers of saffron
The second point is to be familiar with the science of selling and exporting red gold. If we can establish a logical and correct relationship with the buyer and have good sales power, we will definitely be successful businessmen.
7 tips for import of saffron
Buying and selling saffron in global markets is a lucrative and at the same time specialized and professional trade
Understanding the target market and aligning sales and export strategies with the target market is a very important point that should be considered in saffron exports.
Different types of red gold each have their own fans
For example, Arab countries are more in favor of all-red saffron. Some European countries, including Spain, are more in favor of saffron root and white saffron.
Stages, rules, and profits of saffron exports
Buying and selling a product in the domestic market requires the necessary certificates as well as the necessary licenses from the relevant bodies.
In order to operate in international markets and offer our product abroad, we definitely need to follow a series of steps and rules.
For example, having laboratory analysis certificates and having a business card are important rules for exporting saffron.
Export of saffron to Arab countries
It can be said that the Arab countries are one of the most consumed markets for red gold
The highest consumption of saffron in these countries is usually food
This year, large companies from Saudi Arabia, the UAE, Kurdistan, and Iraq have signed cooperation agreements with Saffron King Business.
The company's sales branches are officially operating in the UAE and Iraq
Saffron is exported to Arab countries by the Saffron King brand in DDP and cif
Increasing saffron imports to Europe
According to the reports of the Saffron Union, the export of this product has been increasing in the second half of 2022
In the past few months of this year, we are witnessing an increase in red gold exports every day
However, the volume of pure red gold in the market is lower than in previous years
High customs tariffs are currently hampering export conditions
However, the amount of import of saffron to Europe by King Business Saffron Company has increased.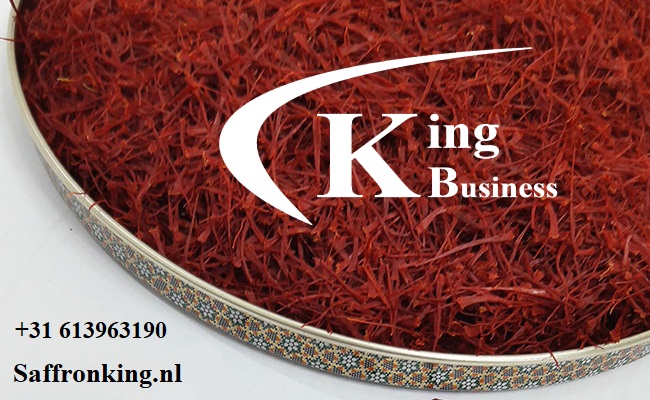 Buy saffron from King Business Saffron Company
One of the importers of saffron that has a high reputation in the European market is King Business Company.
This company is exclusively engaged in the sale and export of saffron.
It has branches in 29 EU countries or sells saffron online.
To buy saffron from King Business Company, you can visit Saffronking.shop