Planting saffron in the Netherlands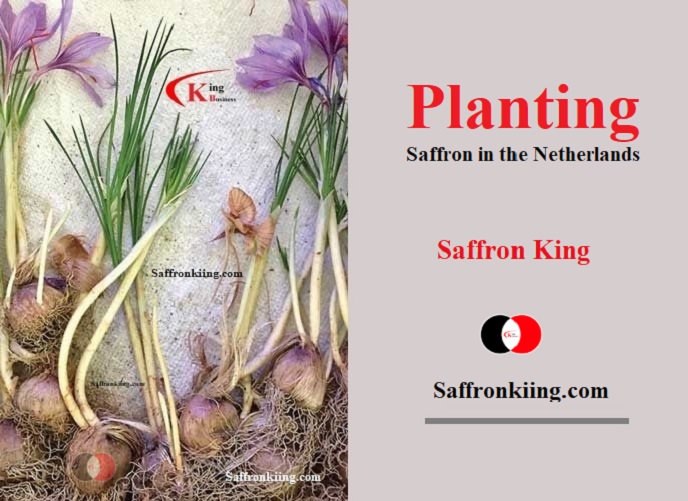 You may also be wondering: Can saffron be grown in Europe?
What is the price of saffron in the European market?
In this section, we will answer these questions.
King Business Company is one of the most reputable saffron suppliers and sellers in the field of Planting saffron in the Netherlands and other countries such as Afghanistan and Iran.
Do you also want to buy the highest quality products from the saffron producer?
Can saffron be grown anywhere?
Agricultural products need a special climate.
Each crop grows in its climatic conditions.
Saffron is a valuable plant that is grown in some European countries such as the Netherlands, Spain, France, Greece and. Saffron.
Planting saffron in the Netherlands by King Saffron Company.
Saffron planting training classes
One of the reputable companies that are active in the field of saffron planting training in Europe is King Business Company.
How to plant saffron in a pot?
If you also want to enroll in saffron planting training classes, fill out the form below or contact our company experts directly.
How can we grow saffron?
In these training courses, the following items will be taught to you.
How to grow saffron?
In what areas can saffron grow?
Where does saffron grow best?
This valuable plant grows in areas where there is sun and favorable soil conditions.
In the collection, we can say that hot, dry, and hot-humid weather conditions are effective for the growth of this plant.
Of course, with the new planting method (planting saffron in pots), we can control the ambient temperature to plant higher quality products.
Planting saffron in the Netherlands
Yes – saffron is grown in the Netherlands.
King Business Company has saffron planting training courses in its work plans in the Netherlands.
These classes are held in Rotterdam.
Planting saffron in the field as well as in pots is taught.
Contact our experts to register.
The sale price of saffron in Europe
We deliver saffron to your final destination throughout European countries.
Bulk and saffron sales are offered in different packages in King Business online store.
The selling price of saffron in Europe is published daily on the company's website.
1 gram (7 euros / 1 gram) 7.00 euros
5 grams (5 euros / 1 gram) 25.00 euros
10 grams (4.50 Euros / 1 gram) 45.00 Euros
20 g (€ 3.50 / 1 g) € 70.00
Sale of saffron in Europe
Saffron is sold in the following countries at the final destination.
We will deliver saffron to you at any address you tell us.
Netherlands
Spain
Germany
Italy
France
Austria
Belgium
Bulgaria
Denmark
Estonia
Finland
Norway
Poland
Orange
Romania
Sweden
Swiss
Turkey
Cyprus
Czech Republic
Georgia
Hungary
Kazakhstan
Ireland
Iceland
Luxembourg
Saffron shop in the Netherlands
We offer you different types of saffron in different cities in the Netherlands.
Saffron store in the Netherlands offers a variety of red gold in
various packages to the European market.
Saffron is sold online in Europe in the King Business store.
Saffron is sold directly in the cities below.
Amsterdam
Rotterdam
Den Haag
Future
Tilburg
Almere
Khroningen
Breda
Harlem
Arnhem
Amersfoort
Dan Bush
Dordecht
Utrecht
Maastricht
Zwolle
Leiden
Alkmaar
Phenol
Schidam
Dan Holder
Osterhaut
Delft
Ede
Zaanstad
Pure saffron quality
You can buy all kinds of products from our company with full confidence.
The quality of King Business products is 100% guaranteed.
100% Grade 1 saffron. This means that the value of our saffron in terms of color, taste, and aroma are all in the highest category.
We can guarantee this because we always check our saffron with Eurofins!
Buy saffron from a farmer
You can buy saffron in the following ways.
1 – Fill out the form below so that our experts can contact you at the earliest opportunity.
2- To buy saffron from a farmer, you can contact the saffron planting department of our company directly.
3- Saffron sales department of our company will answer your phone 7 days a week from 08:00 in the morning until 18:00.
4 – Buy saffron online from the King saffron store