A report of a successful experience in selling saffron to America
Selling saffron to America: learn how to export your saffron with high quality and reasonable price to the American market with King Business.
Selling saffron in America: how to succeed?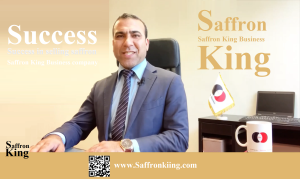 Among the available spices, saffron is one of the valuable and popular products in the world market. This product, with its high price and excellent quality, is of interest to many countries and customers. But how can we export saffron to America and take advantage of this opportunity?
Saffron customers from America
In this article, we will show you how King Business has succeeded in selling saffron to American customers using its experience and expertise. We will explain the steps and details of this process from the beginning to the end and tell you important points.
Selling saffron to America (report)
King Business Company is one of the largest and most reliable companies active in the field of saffron production and export. Having expert and professional teams, this company has been able to open new markets in different countries and offer its products to customers with high quality and reasonable prices.
Saffron market in the United States of America
One of the important and new markets that King Business has entered is the United States market. With a large population and high demand for saffron, this market is one of the most profitable and popular markets for saffron exporters. But how has King Business succeeded in selling saffron to America?
Selling saffron to an American customer
In this section, we give you a report from one of the American customers of King Business Company, who ordered a thousand luxury packages of saffron weighing one gram. We will show you how King Business Company, by holding various meetings and carrying out related activities, did this order correctly and satisfied the American customer.
Meetings of different teams of King Business Company to export saffron to America
To fulfill each order, King Business Company holds several meetings with its different teams. These meetings are conducted with the aim of checking the conditions of the destination market, determining the right price, choosing the right packaging and formulating the right advertising strategy. In this section, we will give you a brief report on the content of these meetings.
Saffron export unit meeting
The export unit of King Business Company is responsible for checking the customs and legal conditions of the destination market. With research and information, this unit can provide solutions for exporting saffron to different countries. For example, in a recent meeting at King Business Company, the saffron export unit raised the following issues regarding the American market:
Recent changes in US customs laws that can affect transfer costs and delivery times.
The need to have special permits to import saffron to America, which can affect the quality and credibility of the product.
Ways to communicate with customers and US agents that can affect customer satisfaction and trust.
By providing this information, the export unit can help King Business to better understand the American market and suggest solutions for exporting saffron.
[Read the rest of this article in the next post.]