What factors affecting the price of buying saffron?
There are factors that cause the price of saffron to fluctuate.
In this section, we examine the most important factors affecting the price of buying saffron together.
Export of saffron
Most of the saffron planted in Iran is exported to Arab and European countries.
Why is the wholesale price of saffron different?
The supply of saffron in the market
Rules and regulations on the saffron market
Customs fees of countries importing saffron
Package type
Shipping costs for orders
Purchase amount of saffron
The amount of production and planting of saffron and some other factors affect the price of this product.
Iranian saffron wholesale
Transportation costs, costs of standards and licenses required for this product are effective in the wholesale price of saffron.
Quality of saffron
Another reason why the price of red gold is high is the quality of the products.
Atmospheric conditions directly affect the price of saffron.
Saffron onion is sensitive to cold and when it is exposed to extreme cold and frost, it is damaged, this damage to saffron onions causes a decrease in production.
Factors affecting the price of buying saffron
The decrease in saffron harvest increases the price.
The crisis we faced last year was drought.
Considering that saffron onion is resistant to dehydration and drought, high heat has a negative effect on its onion.
As a result, last year we saw a decrease in saffron production and therefore an increase in its price. .
Rules and regulations of saffron market
Customs and export laws can increase the price of products.
The supply of saffron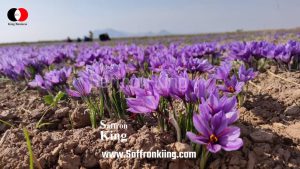 Despite the fact that Iran is the main producer and exporter of saffron in the world, it controls a part of the global market price of this product.
The price of Spanish saffron
Spain has branded many products, including saffron.
He has done a lot of advertising for red gold.
King Business is one of the biggest sellers of Iranian and Spanish saffron in Europe.
The price of 1 kilo of Spanish saffron is between 3890 and 4500 euros.
The purchase price of Iranian saffron
Iranian saffron is known in the world market.
Of course, it was said in the above section that there are many factors affecting the price of buying saffron.
The price of 1 kilo of Iranian saffron in Germany, France, Italy, Holland and Belgium is between 2980 and 3500 euros.
The largest distributor of saffron in Europe
King Business Company is a saffron producer, exporter and wholesaler of quality saffron. You can get the price list of pure saffron by communicating with our experts.
Iranian red gold sales service
We deliver Iranian saffron at the best price to you all over European countries.
For more information, you can contact our experts during business hours from 08:00 to 18:00.